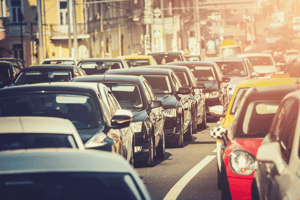 Develop New Markets & Uses
The Issue
Our Position
What We're Doing
The Issue
Ethanol producers face a panoply of obstacles to get their renewable product into the market. The most obvious is opposition from oil companies, which dominate the nation's fueling infrastructure, have the advantage of more than a 100 years of government subsidies to protect their industry, and treat renewable fuel as a competitive product they must fight.
The result has been a decades-long campaign of obstruction and disinformation about ethanol's benefits, played out through battles in Congress, EPA, and USDA over fuels policy. Although most drivers aren't aware that ethanol is already in their fuel, too few understand its benefits to the environment and their pocketbook.
When it comes to retail sales of ethanol, fuel station owners have had important questions about infrastructure needs and the potential return on investment ethanol-blended fuel can deliver. A growing number of retailers recognize the competitive advantage higher blends offer and have upgraded their facilities to offer E15, E20, E30 and E85. And although 90% of America's passenger cars and light-duty trucks can safely run on E15, there are still tens of thousands of retailers that could offer it their customers.
More recently, the future of both the automotive and fuels industries has been welded to efforts to mitigate carbon emissions. This is especially true in California, the largest automotive market in the country. That represents immense opportunity and real challenges for ethanol. Success hinges on working with policy- and rule-makers to carve out space for ethanol and on driving awareness and demand from consumers and retailers.
Our Position
We maintain the position that American consumers have a right to choice when it comes to powering their vehicles — and that the United States Government should take a technology-neutral approach to curbing carbon emissions.
Another essential part of our effort to expand markets is our robust commitment to empower fuel retailers to offer higher blends of ethanol like E15 and E85. We understand the on-the-ground issues they face. We work hard to demonstrate the massive upsides in profits higher blends offer. And so ACE delivers support and advocacy to station owners to control their own destiny through their fuel slate.
Further, ACE supports the development of value-added coproducts and budding markets for new and exciting uses of ethanol like sustainable aviation fuel domestically and worldwide. ACE supports expanding international ethanol use through educational programs and workshops throughout the year through our involvement with the U.S. Grains Council.
Lastly, we strongly advocate for proper carbon scoring of ethanol through accurate lifecycle analysis, not just to give farmers and biorefineries the credit they deserve for yield and process improvements, but to make a difference for the environment right now instead of waiting for a murky electrified future. The correct evaluation of ethanol's emissions performance means greater access to new markets.
What We're Doing
ACE routinely holds EPA to its commitments under the RFS to protect the letter and spirit of the law. But we're also relentless about shaping new policies based on rapidly changing marketing dynamics, as well as innovations in corn farming and biorefining
ACE has fought and won the battle to reign in "Small Refinery Exemptions," which would have let small petroleum refineries out of their legal obligations to blend ethanol with gasoline. We've also pushed to get the RFS back on track by successfully restoring 500 million gallons of ethanol that had been "remanded" in previous years.
The ultimate goal is greater market access, and one way ACE has been fighting for that is through securing year-round sales of E15. That battle continues today. E15 was approved by EPA in 2011 after more than two years of testing — making it the most thoroughly studied automotive fuel ever — to prove it was safe to use in cars and light duty trucks built in model year 2001 and later. After EPA finalized a rule to allow E15 year-round in 2019, the rule was overturned and hung up in the courts ever since. ACE believes achieving a national, permanent solution for E15 year-round is best done through Congress and legislative efforts continue. Meanwhile, there is a rule that would allow E15 all year in 8 Midwest states currently awaiting EPA approval.
ACE is also continuing to press EPA to update its greenhouse gas modeling to more accurately account for improved carbon performance in today's corn farming and biorefining.
Simultaneously, ACE maintains strong, effective outreach to fuel retailers through our Flex Forward campaign. In the last year we've promoted and supported USDA's issuing of grant money to help fuel stations add infrastructure to offer E15, E85, and other mid-level blends of ethanol.