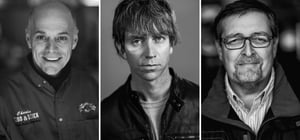 Flex Forward
The Higher Blends Infrastructure Incentive Program (HBIIP)
ACE is leading the promotion and utilization of USDA's "Higher Blends Infrastructure Incentive Program," or HBIIP, which provides grants for equipment upgrades to encourage fuel retailers to offer their customers E15 and flex fuels. Although most stations already have equipment compatible with higher ethanol blends, the federal program rewards station owners who lead their market by strategically implementing biofuels in their stores.
HBIIP grants support transportation fueling and fuel distribution facilities, lowering out-of-pocket costs for businesses to install or upgrade fuel dispensers, storage tanks and systems, and other related equipment.
Since the program launched in 2020, ACE has been at the forefront of its implementation, decoding the process to apply for grants and helping busy station owners prepare the necessary paperwork. As part of the federal government's Inflation Reduction Act (IRA), USDA recently announced the largest funding for the program, $4500 million, with special considerations for smaller station owners.
$77.8 million+ in projects funded since 2020

$50 million of IRA funds already awarded to applicants for the previous HBIIP round (interest in program is increasing)

2023-24 grants biggest ever: $450 million

New grants distributed in $90 million tranches per quarter - Q3 2023 through Q3 2024

Thousands of station owners now offer E15 and Flex Fuels

ACE's Flex Forward campaign actively helping station owners tap the program