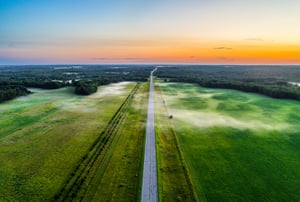 Increase Ethanol Demand & Value
The Issue
Our Position
What We're Doing
The Issue
Ethanol has yet to be properly valued by people who stand to gain much from its benefits as a clean, domestic, renewable fuel — one that's poised to help decarbonize the transportation sector. Improvements in modern farming represent a balance in the emissions equation: with the proper valuation through policy and marketplace instruments, ethanol not only displaces dirty fossil fuels, it encourages stewardship of soil health and protection of watersheds. When the value ethanol delivers to the energy sector is fully recognized in the market, we catalyze environmental stewardship on the farm, and reward growers for their on-the-ground — and "in-the-ground" — contributions.
Our Position
Environmental performance on the farm drives environmental performance on the road — and vice-versa: when the transportation sector properly values ethanol's benefits, it will give farmers the incentive to continue to improve sustainable practices. In other words, everybody wins.

As the ethanol industry continues to lower carbon intensity, policies to cut carbon emissions and promote clean fuels must reward farmers and biorefineries for improving their processes. Improved yields through modern farming practices and fewer inputs, more robust soil health from increased carbon sequestration, and reduced consumption of fossil fuels at the biorefinery will continue with the right policy and demand drivers.

In this way, farmers and ethanol producers benefit all Americans right now and into the future with cleaner, renewable fuel; healthier soil; less erosion and run-off; and progress in the pursuit of an audacious goal — zero-carbon and even net-negative carbon emissions.

Unfortunately, existing markets and policies undervalue ethanol's ability to deliver these benefits, which is why ACE is on a mission to change this status-quo and create new opportunities.
What We're Doing
An essential way ACE grows ethanol demand and value is by protecting the Renewable Fuel Standard (RFS). It has been a central part to how we serve our members, advance opportunity for communities that depend on a strong ethanol industry, and deliver economic and environmental progress that creates value for all Americans.
ACE is sparking several initiatives to increase demand and value for low carbon ethanol beyond the RFS. We're actively promoting new technology-neutral, science-based policies to increase the use of clean fuels to win marketplace and policy support for the environmental value ethanol delivers. We're getting dirt under our fingernails, literally, by helping farmers adopt climate-smart practices which will dramatically reduce corn ethanol's carbon intensity and working with scientists to quantify the resulting benefits (USDA Regional Conservation Partnership Program). We're building tools so farmers and ethanol producers can monetize their practices and technologies in existing and emerging clean fuel markets. We're identifying opportunities for members to maximize tax incentives and other funding through the Inflation Reduction Act. We're pressing for incentives for farmers to join the low-carbon continuum. We're fostering support for Midwest clean fuel policy, specifically the Future Fuels Act in Minnesota, and similar efforts in Nebraska, Ohio, and Michigan. And we're supporting our own members in our drive to achieve 100% participation in carbon market opportunities.
We also continue to advocate for key updates to the GREET Model, with the intent of properly measuring and expressing ethanol's outstanding carbon intensity score. The value to our members is clear: premiums paid for cleaner gallons of ethanol produced. It also represents a compounding effect to benefits all Americans.