The American Coalition for Ethanol (ACE), U.S. Grains Council (USGC) and the South Dakota Corn Utilization Council hosted a tour last week to show stakeholders from Costa Rica, Guatemala and Panama how ethanol blends have been safely, successfully and profitably incorporated in South Dakota as these countries consider implementing ethanol-gasoline blending programs starting in 2024-2025. The delegation was comprised of public officials from the Ministries of Mines and Energy, Environment and Agriculture, and representatives from the private sector and the agricultural industry.
The trade mission visited the farm of Ron and Keith Alverson near Chester where they implement conservation practices on the corn they grow; Dakota Ethanol's 97-million-gallon-per-year plant near Wentworth; and Vollan Oil, a bulk fuel broker, transporter and retailer in Baltic, on day one. The second day started with visits to the NuStar Energy pipeline terminal and a new Get-N-Go fuel station in Sioux Falls, and after touring POET's 125-million-gallon Chancellor plant, the tour wrapped up at POET headquarters back in Sioux Falls.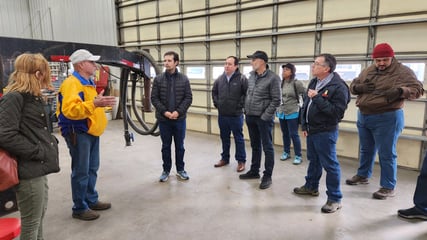 "Our goal was to show public officials and representatives from agriculture and the private sector in these Latin American countries how ethanol is manufactured, transported, stored and sold in the U.S., and provide opportunities to talk with people who work with ethanol in all parts of the supply chain," said Ron Lamberty, ACE CMO and tour leader. "These delegates' countries have plans to blend ethanol to help reach climate goals and are battling the same ethanol misinformation and fearmongering we've fought for decades. Now, after seeing ethanol in tanks and equipment similar or identical to their home countries, as well as dispelling other myths by asking pointed questions to people who handle and sell ethanol every day, these delegate leaders can return to their countries with confidence and certainty as their nations move forward with ethanol blending programs."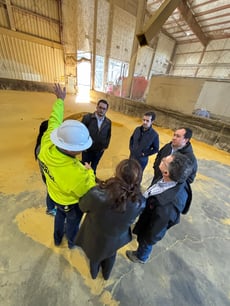 According to Federico Salcedo, USGC's Regional Ethanol Consultant for Latin America, the South Dakota ethanol field experience was very successful, and delegates returned home with a greater understanding of the U.S. ethanol industry and the opportunities derived from ethanol-gasoline blending in their countries.
"During two full days, participants from the private and public sectors learned first-hand about ethanol production's positive impacts on American farmers and the environmental, technical and economic advantages of having cleaner fuels," Salcedo said. "Reading and hearing about the positive effects of ethanol in multiple stages of the production and marketing chain is one thing. Still, it is something different and quite enriching to live it and experience it directly with those who make this industry a reality."
"We're proud of our farmers and the ethanol industry that's developed in South Dakota and very appreciative that the Latin American delegation had the opportunity to view these operations firsthand as a follow-up to the Global Ethanol Summit," said Chad Blindauer, President of the South Dakota Corn Utilization Council.
Read testimonies from participants on the tour:
"We're trying to implement E5 then move to E10 in Panama next year, so I came to see how everything takes place throughout the value chain," said Paula Mesé, Hydrocarbons Specialist, National Secretariat of Energy – Panama. "For me, it was very important to see it directly from the people who are the main actors in this supply chain, so we can replicate this in Panama."
"I have been working in the alcohol sector for the last 25 years, and I have been involved from the perspective of sugar mills, alcoholic beverages and now export, but I have never experienced corn-based ethanol," said Ronald Arias, Operations Manager, Sugar Cane Agricultural & Industrial League – Costa Rica. "I take back with me this conviction that the use of ethanol in gas is very beneficial for everybody — for the planet, the consumers, the producers, the farmers and the industry."
"It was very enriching for me to talk one on one to farmers who produce corn, to the engineers at the ethanol plants, to the drivers that transport it, and the person at the gas station who sells the product," said Asdrubal Bolaños, Liquid Biofuels Coordinator, ARESEP Public Utilities Regulatory Authority – Costa Rica. "Even though I'm a chemical engineer, seeing every part of the supply chain was very educational, and what is very important in terms of my country is seeing how pre-blended ethanol with gas is transported to different gas stations and stored already blended."
Guatemala is in the process of implementing E10 by Jan. 1, 2025. According to a member of the delegation, Guatemala will have 70 million gallons of fuel ethanol demand per year and is currently producing about 65 million gallons of sugar cane ethanol, mainly for export with smaller amounts used in domestic beverage and pharmaceutical industries.
"For us, we very much appreciate this opportunity, because in Guatemala we are in the process of implementing an E10 mandate in our country," said Ivanova Ancheta, Executive Director, Association of Alcohol Producers of Guatemala. "Seeing the ethanol production process in particular at the plants we toured provide great examples for the producers in Guatemala to learn from this experience and apply it in our country."
"It's very inspiring to see everything that's being done in the U.S. across the whole ethanol value chain and the promising future of ag and biotech companies," said Rennatto Tible, Head Legal Counsel, Grupo Pantaleon - Guatemala. "This experience is very valuable for our regional governments at this juncture, because we are about to adopt blends with ethanol and gasoline, so a lot of the old myths that have been proven wrong for decades in countries are resurfacing. I hope to have the collaboration between the U.S. Grains Council, our international friends, and other associations, such as ACE, that promote biofuels help us along in this delicate moment for our programs in Central America."